This is part 1 of a bigger mosaic that i'm planning to shoot. It shows a small part of the Cygnus nebular complex with the Crescent Nebula at his center.

The Crescent Nebula is an emission nebula probably formed by the outer layers of a Wolf-Rayet star found at its center.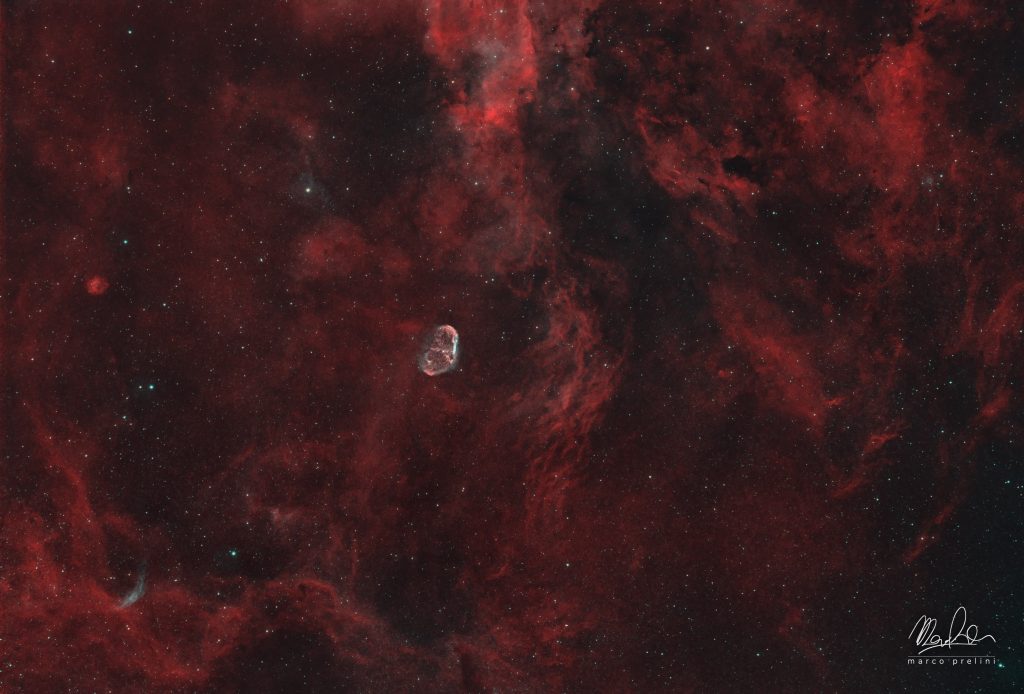 Shooting Data
Background + Crescent nebula at 200m focal lenght
– 57 HA light 300″ gain 120 -10°C
– 78 O3 light 300″ gain 250 -10°c

Crescent nebula only at 100m focal lenght
– 14 HA light 480″ gain 120 -20°C
– 14 RGB light 300″ gain 120 -20°C

– Skywatcher AZEQ6
– Canon 70/200 IS USM L f/4 (at f/5) for 200m field
– Skywatcher 200/1000 PDS for 1000mm field
Frames captured between 12/17th of April 2020 for large field and 2/8th of March 2019 for the 1000mm from my backyard.
Bortle 8 / SQM 18.5 heavy light polluted sky
Postproduction made with PixInsight for image stacking and Photoshop/Camera raw for the color balancing and noise reduction.
HiRes on Astrobin: https://www.astrobin.com/n0gbnj/